Originally posted at Next City.
By Greg Scruggs.
Yale sociologist Elijah Anderson deemed Philadelphia's Reading Terminal Market a "cosmopolitan canopy" in his 2011 book of the same name. By that term, he meant that the diverse space of the market, bringing together a mix of races, classes, ethnicities, locals and visitors, created an environment remarkably free of discrimination for patrons who are not always so well received (as victims of New York shop and frisk can attest). On the other side of the counter, moreover, public markets are increasingly an ideal place for women, minority and immigrant entrepreneurs to get a foothold in the American economy.
Historically, every town in the country had a farmers' market, with bigger cities home to larger public markets, permanent structures like the famed Reading Terminal and Seattle's Pike Place. Then the postwar boom of supermarkets and shopping malls chipped away at America's market culture. Now, according to Kelly Verel, vice president for public markets at Project for Public Spaces (PPS),while in 2000 there were 2,863 farmers' markets in the U.S., that number had almost tripled by 2011, to 7,175.
As for how markets can support new entrepreneurs, David O'Neil,PPS's senior manager for public markets and former manager of the Reading Terminal Market, argues, "Markets lower the rungs of economic opportunity. Huge classes of entrepreneurs have been boxed out and priced out of retail, which costs tens to hundreds of thousands of dollars to access. Cities have a responsibility to maintain market continuity." As downtown, tourist-friendly markets become more diverse, there are also public markets that cater to these new entrepreneurs, from tiny La Marqueta in Spanish Harlem to Mercado Central, where 45 Latino business owners hold court in Minneapolis.
In some areas, connecting these groups to farmland is half the battle. FARMroots, formerly the New Farmer Development Project, was founded in 2000 under the aegis of GrowNYC. Its initial goal was to connect Latin American immigrants with farmland in New York State, where they could grow produce to sell at one of New York City's 54 Greenmarkets. Now it supports its original constituency plus current urban growers in New York City, a highly diverse bunch thanks to a successful partnership with Black Urban Growers (BUG), and second-career farmers, many of whom are women, a demographic leading the way in new sustainable agriculture businesses.
"Plenty of our farmers make a viable living at the farmers' market," says Cheryl Huber, assistant director for NYC Greenmarkets. She adds that some are doing more than 30 percent of their business with SNAP customers, creating a virtuous cycle that supports both small business development and food access. FARMroots has incubated 20 farm businesses thus far and provides them marketing support. Huber continues, "For our Mexican growers, herbs, chiles and squash blossoms, which have a short shelf life, sell well to people from their home country."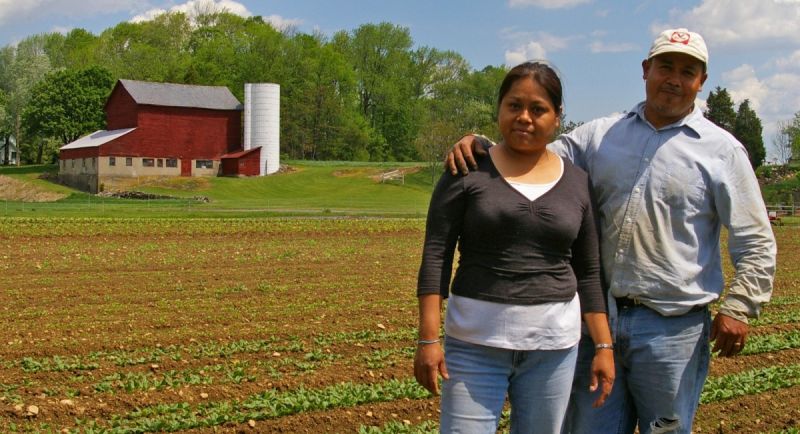 Paz and Sergio Nolasco, of Nolasco's Farm in Andover, NJ, sell their vegetables at GrowNYC's Greenmarkets. (Photo: Christopher Wayne)
Hmong immigrants who moved from Minnesota, where they had settled as refugees, to southwestern Missouri and northern Arkansas, had a different challenge. In 2006, they approached Eileen Nichols, volunteer manager at Webb City Farmers Market in Missouri, looking to sell produce. They had come to the area to work as contract poultry farmers, but soured on the business. Now they grow tomatoes, peaches, blueberries and other popular local crops, but the transition wasn't easy.

"The Hmong growers are highly skilled and hardworking farmers but came to an area that did not have a large market for Asian specialty crops like they had in Minnesota," Nichols explains. "Missouri weather is different, the pests are different, the rainfall is different and the produce that sells well is different from what they had known. We have had lots of training sessions, many fully translated into Hmong, for our growers." A Kellogg Foundation grant administered by PPS supported the training sessions and led to annual sales increases from 200 to 800 percent.
Webb City's own market is now at capacity and new growers, who come from a 40-mile radius, are directed to other communities, where they have flourished, selling as far away as the Farmers Market of the Ozarks in Springfield, Missouri and the City Market in Kansas City, Missouri.
While a few Korean and Vietnam War veterans may harbor some unfair prejudice toward the Hmong vendors (a sad irony given that the Hmong were U.S. allies during the Vietnam War), they have been very much embraced. "As far as our customers, many go out of their way to support the Hmong farmers," Nichols recounts. "It is not unusual to see our farmers at the market consulting each other, checking to see how things are going, seeking advice." She can recall multiple examples of longtime farmers inviting Hmong growers to their own farmsteads to show them crops and techniques firsthand, or even traveling to the Hmong farms, tractors and other equipment in tow, to help out.
This fraternity of market vendors spans both rural and urban areas. O'Neil, who recruited women, minorities and immigrants during his tenure at Reading Terminal Market, points out, "There is an informal support network. Old-timers will give you advice whether you want it or not."
Sometimes, however, cultural differences lead to obstacles, which proactive markets can smooth out. John Turnbull, director of asset management and development at the Pike Place Market Preservation & Development Authority (PDA), recalls, "We worked with Somali families who didn't know how to retail. Customarily, for example, women wouldn't talk to strangers."
While congressional deadlock has failed to address comprehensive immigration reform, policies connecting immigrants to farmland and urban markets have had a much easier time. Going to market, it seems, won't be going out of style any time soon.
[divider] [/divider]
Originally posted at Next City.