Editor's note: the following is a first-hand, and on-the-ground account of Philadelphia's summer swim program. Though it is outside of CA, many recreation leaders at the municipal level can likely relate to its stories. If you have a story you would like to tell about one of your city's rec programs, please email Justin at Justin@PublicCEO.com.
Originally posted at Next City.
By Mica Root.
Last June, I left my director role at a community non-profit to become a lifeguard at the City of Philadelphia's O'Connor Pool. Spending every day next to water (chlorinated though it was) made that summer one of the most enjoyable of my life. Even better, though, was training to become a lifeguard — largely because my teachers (one of whom, Larry Brown, is profiled below) inspired me to want to get to know our city as deeply as they do. To that end, I set out to swim in all 75 of Philadelphia's public pools. Along the way, I've heard awesome stories. I started a weblog, Swimming Philadelphia, to share some of them.
I love Philadelphia's public pools. I love them because I love to swim. I love them because in the middle of summer, when my clothes are sticking to me with a mix of sweat and city soot, nothing gets me through the day like knowing I can jump in a pool at the end of it. And I love them because I think it's neat that Philadelphia has more free outdoor swimming pools than any other city in the country. But I love them the most because in these days of austerity and privatization, of seemingly endless attacks on our public schools and public workers, the fact that Philadelphia still has these shimmering respites from our sweltering city summers hiding around so many neighborhood corners is cause for celebration. Many people — from rec department officials to community coalitions — deserve credit for keeping them open, but none more than the 800-plus Philadelphians who staff them. Many of whom love the pools even more than I do. (To read more about the last four people below, click on the name to take you to their full story on my site.)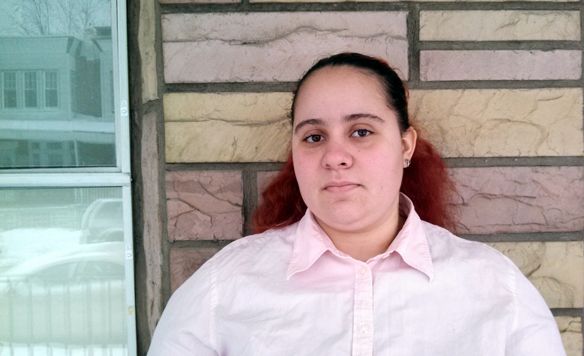 Phiteama Harris
It doesn't hurt to have a tough demeanor when you're working next to one of the more notorious drug corners in South Philadelphia. "Every year we open, the first day of the pool [the dealers on the corner are] shooting; they're stabbing people," Phiteama Harris explains.
"So that's why we started checking bags at the gate. You're not bringing no weapons in here."
Working at 7th and Snyder can be rough at times, but it's worth it. For one thing, Phiteama's job as Ford Pool's head lifeguard pays almost twice as much as her year-round gig managing a nearby Burger King. For another: "Working at the pool, it's not that it's something to do, it's what I love to do. To know that I can bring activities to kids who really don't have nothing else to look forward to."
Phiteama, who is 24, and the rest of Ford's staff run daily swim lessons and swim team — and spend the rest of their day looking after kids as well. (Children can come to Philly pools by themselves as soon as they are six years old and 45 inches tall.) "I try to stay fit by swimming, and I try to get the kids interested to stay fit, and just to bring joy to them. We're there for them, basically. We make them feel loved."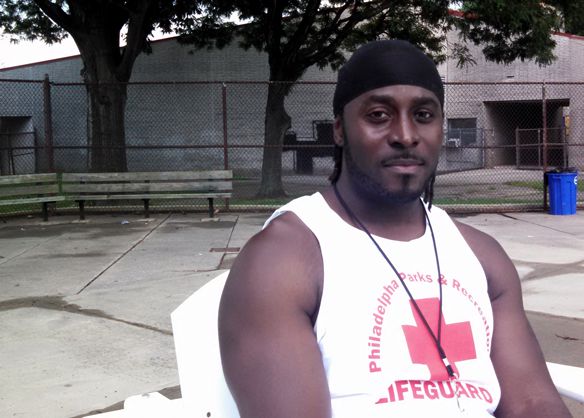 Will Coleman
Will Coleman decided to become a lifeguard after his cousin nearly drowned when they were swimming together in a hotel pool. He knew how to swim, but when Will went for his lifeguard screening at Turner Middle School (where the pool has since closed) in Southwest Philadelphia, he didn't have the endurance to pass the test.
He got into a remedial class and swam every day for three months. "The teachers that trained me, Matt and Linda — they impacted my life. They trained me to get the endurance to be able to pass the screening so I could become a lifeguard," Will, 34, remembers.
"And in turn I do the same thing. As a lifeguard instructor, if people don't know how to swim, or don't have the endurance, I don't let them get discouraged and don't come back. I tell them, 'Listen, you can do it. We've got remedial courses. I will help you.' And I do. And 90, 95 percent of the people that I tell, they actually come back and they finish."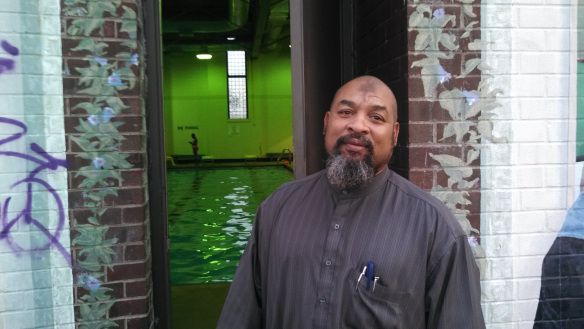 Larry Brown
Larry Brown's face lights up when he talks about swimming. "Swimming, it's an art. Kicking your feet, using your arms, sucking the air in, blowing it out under the water. When your legs kick six times, your arms move once. We need to take more time out to show children how to swim," the 56-year-old says. "It gives them an outlet to do something that other athletes can't do. A lot of athletes can't swim. They're scared of the water! I'm talking, you've got major athletes, who make millions of dollars, scared to put their foot in the water. So now you have somebody, right, doesn't make all that money, doesn't have all that fame, can get in and swim without drowning. That's important."
At Sayre-Morris Pool since 1989, Larry's taught hundreds of West Philly kids to swim. His history there goes back to when he was a young teen in the early '70s. "Back then it was gang war. I would come up here knowing that I would get chased." Larry joined the Army in 1975. His roommate was a medic, with a penchant for – and access to – hard drugs. Larry was a boxer, and the boxing kept his own drug use in check – until he got out of the service in 1982.
"Before I started actually swimming distance, and getting into the mechanics of swimming, I was a drug addict," he says.
Larry went to rehab and when he got out, he started going to Sayre every day. They eventually asked him if he wanted a job. He inspects pools, teaches swimming lessons, trains lifeguards, leads twice-weekly water aerobics, and holds boating safety classes. "It's been a party ever since. That's the real party. The real party is being able to not get high, and having money in your pocket."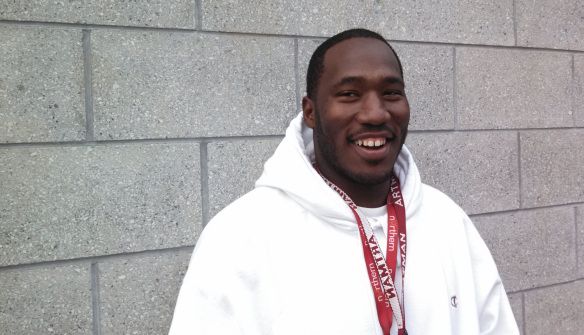 Michael (Kevon) Daniels
With 19 rescues, Michael Daniels saved more people from drowning last summer than any other City of Philadelphia lifeguard. He takes the role seriously. But ask him why he became a lifeguard — or what motivated him to earn his Water Safety and Lifeguard Instructor certifications — and he'll tell you, "Chicks dig lifeguards."
Mike's good humor is infectious. It's humor that grows out of struggle. "I wasn't always an angel. When I was growing up, I did what the average kids in the urban area do. Spraypaint on walls. Graffiti. Vandalism. Stealing cars. I was bad."
Mike, who's 30, got into swimming at 14 to keep himself out of trouble. He started at Sayre-Morris Pool, then became a junior lifeguard at Cobbs Creek. Now he's a lifeguard at the Olympic-sized Kelly Pool, which, unlike most Philly city pools, has a section that's seven feet deep.
"It's pretty deep, and you get people who think they can swim, and then when they don't feel the bottom they give up and just sink, instead of trying to swim out. Myself and my co-worker Devyn, we had the most saves in the city this year. The primary purpose of a lifeguard is to prevent a drowning. … Every time it happens, every time you save someone — you can't replace that feeling."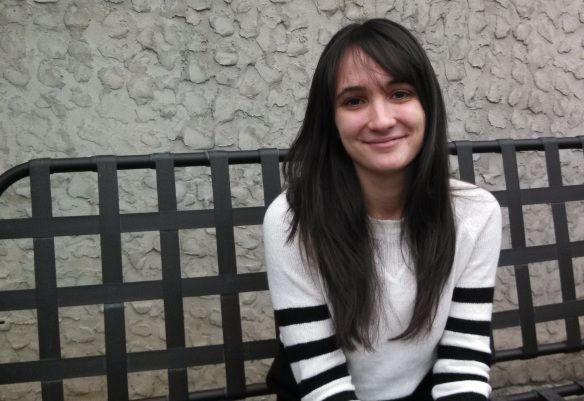 Natalia Susul
Natalia Susul, 20, has the diminutive stature of a gymnast, but her curiosity is huge and honest. She is unflaggingly open-minded and interested in the world — and especially the people — around her.
"With my parents barely knowing the language, they've always stressed to me, know as many people as you can. Meet as many people from as many different backgrounds, because you'll learn something from everyone. It doesn't matter if they're rich or if they're poor. And that was my favorite thing about being a lifeguard. You meet so many different people. There's doctors that come to the pool. There's kids in second grade that come to the pool. People of all different backgrounds, of all different jobs, of all different ethnicities can still come to one place and share something in common. Regardless of their income, or regardless of their skin color — regardless of anything. "
Natalia is the head lifeguard at O'Connor Pool. She and her older brother grew up in Philadelphia's Port Richmond neighborhood ("culturally Polish," she describes it, and fluent in the language) and attended programs at Samuels Rec, up the street from their house, for as long as she can remember. The summer she was to turn nine, her mother enrolled both kids in Samuels' Swim for Life summer camp. "I'm pretty sure I threw up in the morning, I was so scared," Natalia laughs. But by the second week, she was swimming in eight feet of water. She returned to the camp for six more summers, and passed the lifeguard certification at the end.
"Growing up in the city, we went down the shore every now and then. But the city gets hot; the city gets sweaty; the city gets gross in the summer. Having the pools is not only a way to cool down, it's a way to be a kid. Through all the troubles of every day, just being a child again, being innocent again, and just frolicking around."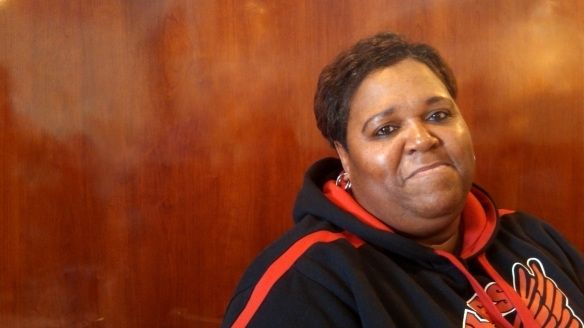 Donna DeShazo
Donna DeShazo has worked at O'Connor Pool for seven years and never once been in the water. "On the hottest day, I won't even get underneath the shower. And people always ask me, people always say, 'Do you get in the pool?' No." But she loves being there. "I love watching everybody else in that water. I love it. I get a joy out of watching people in the pool, that I'm able to watch them. I'm watching over them. I really feel as though God has placed me there to be their covering. To keep them safe, you know what I mean?"
Donna, who's in her late 50s and is a pool equipment operator by summer, explains why you'll never catch her in the water: "I had a bad experience. When I was 11 years old, one of my big sisters called themselves teaching me how to swim. And almost had me drown. And that was a horrible, horrible experience that I need deliverance from," she laughs. "But I have not gotten deliverance from that. It's funny."
Yet Ms. Donna, as everyone at the pool calls her, has worked at the O'Connor pool longer than anyone else, and carries an authority born of experience as well as seniority. "I know sometimes even down to our staff, I can work their nerves. Because I want the best, you know what I'm saying? I want the best. I'm older, and I know we have young ones that we work with, but I want them to take the job serious."
"We have some kids that have nowhere to go. Parents can't afford to take them on vacation. The pool is their vacation. These kids need stuff like that. Not even just the kids. Adults. We have adults that come there faithfully. Who work hard each and every day, pay taxes like anybody else, and because they can't afford to go on vacation, the pool becomes their vacation."
[divider] [/divider]
Originally posted at Next City.