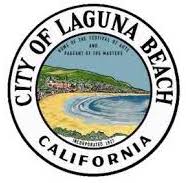 On Monday, the City of Laguna Beach will reopen City Hall to the public daily from 9:00 a.m. to 4:00 p.m. in accordance with State reopening guidelines to include restrictions to ensure a safe and healthy environment for employees and visitors.
Starting June 8, drop-in service will be provided at all public counters, however regular City business should still be accomplished virtually or via phone whenever possible.
Additional Laguna Beach City Hall Reopening Protocols and Safety Measures:
Health Screening. The City of Laguna Beach has implemented a temperature screening
process and guidelines for all members of the public entering City facilities and all City staff
entering a City facility or preparing to be out in the field to conduct City business. All
temperature screenings will be accommodated with a no-contact thermometer.
Face Coverings. All visitors are required to wear a face covering before receiving in-person
services inside any City facility. All City staff inside a City facility are also required to wear
a face covering whenever they are within 6 feet of another person.
Safety Barriers and Signage. A greeter outside of City Hall will meter people entering City
Hall to prevent large crowds and help visitors get to where they need to go quickly. Plexi-
glass guards are installed at each City public counter to further protect staff and the public.
Six-foot distancing floor decals are placed throughout City Hall lobbies where members of
the public will be assisted.
Increased Cleaning Frequency. Shared areas and public spaces, including all public
counters, conference and meeting rooms, break rooms, copy rooms, restrooms and plexi-
glass guards are cleaned a minimum of twice daily by the City's contract janitorial services.
Frequent hand washing by City staff is also encouraged.
To watch a video detailing the City's new reopening safety protocols and modifications, click
HERE.
In the Community Development Department, customers can drop-in between the hours of 9 a.m. and 4 p.m. No more than four people are allowed in the Community Development lobby area at City Hall at one time. Applications will no longer be accepted from the drop off cabinets located outside of City Hall beginning June 8.
The Laguna Beach City Council meeting will be held virtually on June 9. Planning Commission and Design Review Board meetings will continue to be held virtually until further notice.
For the latest updated community information from the City of Laguna Beach, subscribe to the
City's Community Newsletter by texting 92651 to 888-777.