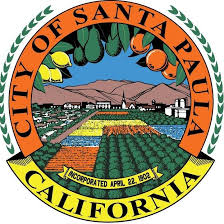 The City of Santa Paula has made significant progress on the first phase of its 5-Year Pavement  Management Plan, which prioritized addressing street maintenance throughout the city over the past several months. During the month of July alone, 28 neighborhood road sections were addressed through the Santa Paula Public Work team's Citywide Street Maintenance Project. This road maintenance work helps to improve the overall ride quality and structural integrity of the pavement.
"Local streets and roads are the connective tissue of our communities, providing the pathways literally and figuratively – for both economic and personal activities," said Tai Chau, Santa Paula City Engineer. "And street maintenance and pavement preservation are vital activities that ultimately help extend the life of our local streets and roads."
The City has been working with contractor Pavement Coatings to make lightning quick work of
extending the service life of neighborhood streets by applying microsurfacing. Microsurfacing is a mixture of water, chemical additives, aggregate and emulsified asphalt that acts as a protective layer that preserves the underlying pavement for an additional five to 10 years and provides a smoother driving surface. The improved streets initially feel gritty for the first month or two, but will smooth out with time, vehicle traffic and three rounds of street sweeping, which will take place on the newly improved streets once curing has completed in September.
Santa Paula drivers are encouraged to continue driving on the newly mircrosurfaced roads to assist with transitioning them into a smoother surface, and can further assist with these efforts by avoiding the following:
Sharp turns, such as U turns
Driving beyond the posted speed limit, or speeding
Fast acceleration
Sharp or fast breaking, such as hard stops at a stop sign
Stationary power steering turns
"We deeply appreciate the community's patience and cooperation during this process," said Clete Saunier, Santa Paula Public Works Director. "The historic Santa Paula streets are an important part of our community, and we are thrilled to be able to extend their usability."
The City's Street Maintenance Program is designed to ensure City streets that are in good condition remain that way over a much longer period of time while significantly reducing the amount of costly pavement rehabilitation and reconstruction work in the future. Combined with the other street projects outlined in the 5-Year Pavement Management Plan, a total of 15 miles of road maintenance, nine miles of preservation and light rehab, and 1.5 miles of heavy rehab or construction will be completed. Highlights of such work include slurry seal and 2-inch grind and overlay work on Harvard Boulevard, and improvements to residential streets like La Vuelta and Terracina Drive, as well as to collector roads like Main Street and Santa Barbara Street.
For more information, please visit the City's website, www.spcity.org, or contact the Public Works Department by emailing pw@spcity.org or calling (805) 933-4212.