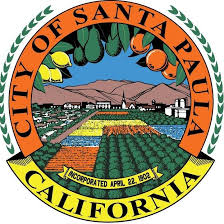 The City of Santa Paula invites all Santa Paula residents to tune in to a virtual community forum on policing, led by the Santa Paula Chamber of Commerce, on Thursday, October 1, 2020 from 7 PM to 8:30 PM. The forum will be moderated by the Chamber, in addition to two of Santa Paula's staple community leaders – Santa Paula Times Editor and Publisher Peggy Kelly and local photographer Jose Luis Melgar. Panelists will include members from the Santa Paula Police Department and the Ventura County Crisis Intervention Team. 
Santa Paula Police Department officials and representatives from the Ventura County Crisis Intervention Team will address topics related to department operations and practices. This includes providing information on organizational mission and values, training programs, community crime statistics, use of force policies and a brief overview on the funding and budget for public safety services. 
"We respect our Santa Paula police officers and hope that this forum will provide the Santa Paula community with an opportunity to connect with them, ask questions and share thoughts regarding the Department's policies and practices," said Santa Paula Chamber of Commerce Executive Director John Marquez. "We are excited to be a part of this process that will ultimately better our local policing practices through productive dialogue and bring our community closer together." 
The City's community forum on policing was inspired by recent calls from across California and the entire United States for increased transparency within police departments. The County of Ventura was one of the first in this region to host a virtual two-hour community forum on the intersection of race and law enforcement on August 5 over Zoom. The County's forum included panelists such as the County sheriff, the County's District Attorney and a representative from the Black Lawyers of Ventura County. While the County's forum was, obviously, more general in its focus, the Santa Paula Chamber of Commerce hopes to address community-specific questions, thoughts and concerns during the October 1st forum. 
"We want to maintain an open dialogue with the Santa Paula community and give the public an opportunity to be heard," said Santa Paula Interim Police Chief Ismael Cordero. "The Department is committed to building relationships with and serving the Santa Paula community to the very best of our abilities. Through this forum, we hope to be able to alleviate any potential community concerns and answer any of our resident's questions regarding our Department's policies or programs." 
The Santa Paula Police Department will reserve the majority of the forum to answer questions submitted by the public. The City encourages members of the public to submit any and all questions before October 1, 2020 at 3:00 PM by emailing info@santapaulachamber.com. All residents are welcome to live stream and participate in the virtual forum in order to gain a better understanding of the Santa Paula Police Department, their role in the community and to have their questions answered by the Department. 
The forum will be broadcasted live on Channel 10, City of Santa Paula website, Santa Paula Chamber Facebook Live and kadytv.com. For more information on this forum, please call (805) 525-5561 or visit santapaulachamber.com.