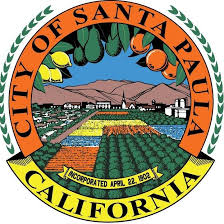 Summer is fast approaching, and with it comes increased wildfire risks and severe weather that can lead to power outages and preemptive public safety power shutoffs.  However, the City of Santa Paula is proud to announce that it has bolstered its emergency preparedness and power resiliency with a $300,000 grant from the California Governor's Office of Emergency Services (Cal OES). The City received the maximum award as part of the State's  Community Power Resiliency Allocation to Cities Program.  
"If the last year has taught us anything, it's that we have to be prepared for anything," said Santa  Paula City Manager Dan Singer. "From July 2019 to the present, our city has spent 161 hours in power outage events. While we cannot control the severity of the weather, we can make sure our  city is as prepared as possible to work through these and other emergency-type events." 
In the last year, the State of California has experienced its most deadly wildfire season yet. As a  result, power utilities can decide to shut off power for hours, or even days, as a fire prevention measure during hot, windy and dry weather. Loss of power, however, can be dangerous.  

The City plans to use this grant money to prioritize the power resiliency of the Community Center by installing a transformer and manual transfer switch, which will allow the Community Center to receive power from an offsite generator. In the event of a power outage, these upgrades will allow the City to maintain its food storage reserves which currently feeds 120 seniors every day through the Meals on Wheels program. The City's Community Center also doubles as a designated cooling center, Red Cross Center and Emergency Shelter for the entire Santa Paula community.  
The Cal OES grant will also enable the City to install one liquid propane (LP) generator at City  Hall and one at the Police Department to ensure that these sites are able to maintain power in the event of an emergency power outage and continue fully serving the community. Additionally,  the City plans to augment the Police Department's resilience during an emergency by installing a  single phase generator at the radio tower to provide power backup for all police communications systems.  
"Without this grant from the State, the City would have difficulty funding the infrastructure needed to help keep the City moving during a power outage," continued Singer. "We are grateful for the  State's commitment to helping communities like ours, especially in light of the unpredictable  emergency situations we have experienced over the past several years."