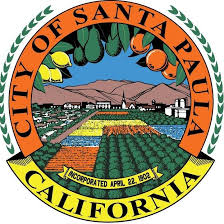 The City of Santa Paula is kicking off the spring season by continuing its 5-Year Pavement Management Plan. The City's paving contractor, J&H Engineering  General Contractor, Inc. will be performing road rehabilitation work on three street sections of  Faulkner Road and Peck Road. The Peck Road and Faulkner Road Pavement Rehabilitation  Project includes reconstruction of the roadway pavement, curb ramps and cross gutters, grinding existing pavement, crack sealing and asphalt pavement overlay as well as other incidental and related work.  
The City's Public Works Department spent the winter months strategically planning and designing the City's streets projects to prepare for the upcoming work. "We are pleased to resume Phase II  of our streets improvement project, especially beginning with Peck and Faulkner," said Santa  Paula Public Works Director Clete Saunier. "These streets are central to our community due to  their proximity to the nearby freeway and the local community college, so we hope to alleviate  concerns as some residents start getting back to work, school and other activities this summer." 
Construction is scheduled to begin March 22, 2021 and is expected to be completed in May 2021.  Hours of operation are scheduled from 7:00AM to 5:00PM, Monday through Friday. Scheduled project operations will affect only three (3) street sections – North Peck Road between Santa  Barbara Street and Santa Paula Street, South Peck Road from Acacia Way to the Santa Paula  Freeway, and Faulkner Road from South Peck Road to the Santa Paula Freeway on-ramp/off ramp. Please review the project site plan below for more detail.  

Throughout the next several years, the  City will continue pavement rehab and utility projects on the City's streets as part of its 5-Year Pavement  Management Plan. Residents can view the plan, including a list of streets scheduled for maintenance, on the  City's website. 
"We want to remind residents that street maintenance and repair is a  continuous process," said Santa Paula City Manager Dan Singer. "In addition to repairing roads with severe damage, like the sections of  Harvard Boulevard that will be receiving pavement rehabilitation later this year, the City is also  focused on maintaining less damaged roads in order to avoid more intensive and more expensive  reconstruction projects in the future." 
The City appreciates the Santa Paula community's patience and cooperation while construction is underway and the unavoidable inconvenience of traffic delays that are typically associated with this type of work. If you have any questions or concerns regarding this project, please contact the  Public Works Department at (805) 933-4212.