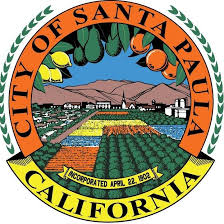 As the upcoming school year approaches and summer reaches its end, the City of Santa Paula is encouraging all of its residents to take advantage of the City's recreational opportunities and seasonal events, many of which have only recently become a possibility due to lifted COVID-19 restrictions. The City and our community partners have an exciting list of upcoming events and recreational activities that ensure all residents, from children to seniors, enjoy the final moments of summer to the fullest.
The City's Parks and Recreation Department will be offering a one-time, 50% waiver for youth, adult and senior classes and programs per individual. This discount, made possible by the American Rescue Plan Act, will greatly reduce the cost of classes and programs for all ages. Summer camp, preschool, hip hop, gymnastics, Folklorico, Tae Kwon Do, youth leagues, adult classes and leagues, as well as seniors classes are all available for this discount! To learn more about how to redeem this discount, call the Parks and Recreation Department at (805) 933-4226, ext. 250 or visit the Department in person at 530 West Main Street.
In line with making classes and programs more accessible, the City of Santa Paula also launched its Mobile Activity Center (MAC) earlier this month. Through this program, the City's Parks and Recreation Department brings activities to local parks to fill children's afternoons with fun and games. From Monday, July 26 to Friday, July 30, the City will be at Ebell Park from 1 to 4 p.m. each day. The following week, Monday, August 2 to Friday, August 6, the City will host activities in Las Piedras Park from 1 to 4 p.m. The City will also be continuing its Movies in the Park on Friday, July 23 at Veteran's Park with "Raya and the Last Dragon" and on Friday, August 13 at Teague Park with the movie a "Bug's Life." Keep an eye out on the City's Parks and Recreation's Facebook and Instagram for future locations and events.
To add to the City's full summer schedule, the City of Santa Paula revived its tradition of the Police Officer's Association (POA) Cruise Nights on the first Friday of each month at 5 p.m. Residents are encouraged to come out to Main Street and enjoy the restored vintage cars and trucks while the good weather lasts. In addition to the City's monthly downtown Cruise Nights, the Chamber of Commerce will host a Hot Summer Nights Festival in downtown Santa Paula with artisan food and live music on Saturday, August 28.
Finally, the City is excited to announce the new installation of its Friday night Farmers Market! Residents will not want to miss out on the City of Santa Paula's Certified Farmers Market beginning on Friday, August 20 from 3 to 7 p.m. The Farmer's Market will feature resident-favorite local shops and products, but unlike any other farmers market found in neighboring cities, Santa Paula's Farmer's Market will include a wine and beer garden for adults to enjoy. The market, and attached wine and beer garden, will be an ideal place to spend the remaining summer evenings in Santa Paula.
For more information and updates, residents are encouraged to check the City's Facebook, Twitter and Instagram pages regarding these activities and events.