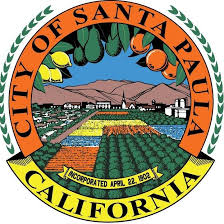 The City of Santa Paula, in partnership with the Chamber of Commerce and  Enriched Farms, is excited to announce the installation of a new and unique certified farmers market experience beginning Friday, August 27. The inaugural event will kick off at 3 p.m. with a  ribbon cutting ceremony and opening remarks. 
The new Santa Paula Certified Farmers Market, which will take place every Friday from 3 to 7  p.m. along East Santa Barbara St. between North 10th St. (Hwy 150) and North Mill St. in front of our historic Train Depot, will showcase locally certified fruits and produce from growers such as Prancers Farm and Espinoza Farm along with shops and food from over thirty vendors.  Santa Paulans and visitors alike are encouraged to come out and enjoy all that beautiful Santa  Paula has to offer.  
Looking for a tasty quick bite or a fun Friday night dinner? Look no further than Santa Paula¶s  Certified Farmer Market, which is set to feature many restaurants and food businesses. Try  something new, such as: 
ξ Brothers Products – various hummus flavors, pita bread and pita chips, Mediterranean  salads and dips 
ξ Davilas Pupuseria – featuring delicious pupusas  

ξ Keto Sweets LA – baked keto brownies and breads (gluten free and diabetic friendly) ξ MeGusta Gourmet Tamales and Thai Chicken – award winning tamales ξ Salsa Acapulco – fresh salsa of various kinds, guacamole and various ceviches 
Alongside the delicious local food stalls, attendees will find local businesses and merchants selling their popular and skillfully crafted products. From locally grown flowers from Pattys Farm to 100% locally produced honey from BlueRidge Honey, the Santa Paula Certified Farmers  Market is sure to have something for everyone. 
To top it all off, the Santa Paula Certified Farmers Market is the only farmers market with a wine and beer tasting section in Ventura County for adults to enjoy! Visitors may shop around for their favorite local products, grab a meal or snack, and then end their Friday night with tastes from local wine, beer and cider makers. In addition, shoppers can enjoy local live musical entertainment from local musicians while winding down the week. The wine and beer tasting area, alongside the delicacies showcased at the market, ensures the Santa Paula Farmers  Market will be the perfect place to spend Friday evenings and grab local produce for the weekend.  
The market will feature vendors who accept EBT and the process for accepting WIC is in the works. For more information and updates, residents are encouraged to check the City's  Facebook, Twitter and Instagram pages regarding these activities and events.