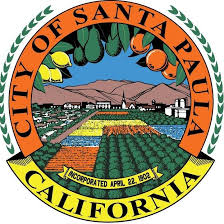 Santa Paula, CA – Although the weather is still warm and the leaves are still green, fall is here! The City of Santa Paula is excited to bring back some fall favorite activities and ghoulish events for residents to enjoy this spooky season.
With over 80% of the City's population having received their first dose of the COVID-19 vaccine, the City is thrilled to announce the revival of its annual Halloween Carnival, which was replaced with a spooktacular Halloween Drive-Thru last year. Residents and visitors alike can come enjoy carnival games, devour candy, enter in the costume contest or participate in a unique trunk-or- treat experience featuring classic cars! The Halloween Carnival is scheduled to take place on Friday, October 29 from 5 to 8 PM in the Community Center Parking Lot (530 W. Main St.). If you have any questions about the event, please contact the City's Parks and Recreation Department at (805) 933-4226, ext. 351.
Before this spooky event, the City's Senior Center will be hosting a fall-themed luncheon on Wednesday, October 20 from 11:30 AM to 1:30 PM in the Community Center (530 W. Main St.). Santa Paula's senior community can reunite and enjoy an afternoon together filled with live entertainment and great food.
In addition to these one-day special events, the City's October classes start on Thursday, October 7 and sign-ups for its November classes and ongoing activities will open beginning Monday, October 18. The City will also open registration for its youth basketball team. Students in second to eighth grade can participate in the six-week long basketball season. Registration begins Friday, October 15 through Monday, November 22. Register at SantaPaula.RecDesk.com. Check out some more fun activities and classes below.
Youth Classes
Folklorico (ages 7-17): Learn the fundamentals of the Mexican folk dancing tradition, how to keep rhythm and choreography.
Gymnastics (ages 3-13): Have fun and improve your balance, coordination, agility and flexibility!
Tae Kwon Do (ages 3-17): Learn the basics of this Korean martial art in the beginner class or practice your skills in the advanced class.
Hip Hop (ages 7-15): Get your body moving with Hip Hop Mindset in a fun and energetic hip hop class.
CITY OF SANTA PAULA
News Release
CITY OF SANTA PAULA
News Release
Zumba (ages 55+): Dance to a fast-paced beat in this fun workout class.
Mat Yoga (ages 55+): Improve your flexibility and posture with traditional yoga exercises.
Chair Yoga (ages 55+): Strengthen your mind and body with adapted and modified yogatechniques.These activities and events will all take place at the Santa Paula Community Center, located at 530 W. Main St. Residents can register at the Community Center from Monday through Thursday from 1 to 5 PM or on the City's registration portal here. For more information about class times or materials fees, please contact Michelle Tanaka at the City's Parks & Recreation Department by emailing mtanaka@spcity.org or calling (805) 933-4226, ext. 358.Lastly, in honor of Breast Cancer Awareness Month, the Santa Paula Police Department will be wearing and selling newly redesigned pink department patches and two patrol vehicles will also feature similar pink graphics throughout the month of October. Anyone interested in purchasing a pink patch can do so by stopping at the front counter of the Police Department. All proceeds will be donated to the American Cancer Society. Residents are also encouraged to take photos of the Breast Cancer Awareness Month themed patrol vehicles and post the photos to social media tagging the Santa Paula Police Department (@santapaulapolicedepartment) and using the hashtag #BreastCancerAwareness for a chance to win a pink department patch.