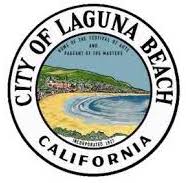 After leading the Laguna Beach Fire Department for four years and a cumulative 36-year career in Fire Service, Laguna Beach Fire Chief Mike Garcia has announced he will retire on July 1, 2022.
During the past four years, Garcia led the development of the 3-year Fire Department Strategic Plan and the new Emergency Ambulance Transport Program. He also assisted with the development and implementation of the Wildfire Mitigation and Fire Safety Report.
"Laguna Beach is a beautiful City and a wonderful community filled with passionate and caring people," Garcia said. "I have truly enjoyed my many interactions with community members and will miss many of them. Just as passionate and caring are those who work tirelessly in making this City run and attempt to make it safer. I could not have asked to work with a more caring, compassionate, and committed group of people as I did with the Laguna Beach Fire Department."
Chief Garcia also helped the City in developing the plan to reopen City Hall after the initial impacts of the COVID-19 pandemic. He also played a pivotal role in promoting and hiring talented employees to the City after a number of retirements within the Fire Department.
"We are very grateful to have had Chief Garcia's guidance, leadership, and fire expertise over the past four years in Laguna Beach," said Laguna Beach City Manager Shohreh Dupuis. "During his tenure, he has significantly improved the City's Defensible Space programs, which were recently called an example for the state by the California Coastal Commission. The City of Laguna Beach congratulates Chief Garcia on a successful career and wishes him well in retirement," said City Manager Shohreh Dupuis, pictured with Chief Garcia in the Emergency Operations Center.
Chief Garcia previously served 28 years at the Long Beach Fire Department. He was also a member of the Orange County Fire Chiefs Association. Garcia will retire effective July 1, 2022 but has committed to stay until a new Fire Chief is seated. A nationwide recruitment for a new Fire Chief will start soon.
"The personal commitment by our Firefighters is inspiring and has made me proud to be their Fire Chief and I will forever be inspired by this group of professionals," Garcia said. "Thank you to all our community members for your continued support of the Laguna Beach Fire Department. It has been my honor to serve you."