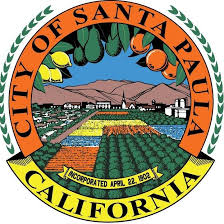 On January 18, the City of Santa Paula launched a six-month pilot program to provide in-person Spanish interpretation services for City Council meetings. The program aims to increase accessibility for Spanish speaking residents who make up a significant portion of the city's population.
The 2020 Census showed that 65% of Santa Paula residents speak a language other than English at home, with Spanish being the most common. In the past, the City has occasionally used interpretation services for public meetings, such as districting workshops, to encourage more civic participation among Spanish speaking residents. However, to ensure all members of the community have equal access to information and resources regardless of their linguistic background, the City is exploring options to expand its Spanish services on a more consistent basis, starting with the Spanish Interpretation Pilot Program.
"I am very pleased with the launch of this pilot program, and I am confident it will prove to be a valuable resource for our community. As a City with such a diverse population, it is vital we do everything we can to expand our communication capabilities to be more inclusive," said Mayor Andy Sobel. "This program is an important component for building a more robust local democracy, and I am looking forward to a more inviting environment where all of our residents feel comfortable, empowered and inspired to participate."
The program is being funded by the City's American Rescue Plan Act (ARPA) funds and will be evaluated at the end of the six months to determine if it should be made permanent. The simultaneous interpretation services are provided by Homeland Language Services. Spanish speaking residents who request interpretation services will be provided with individual headsets to listen to the meeting. Additionally, the interpreters can also assist those wishing to provide public comment at the dais.

At the January 18 meeting, five attendees utilized the Spanish interpretation services. Spanish speakers were also able to provide public comments in their preferred language. The City encourages community members to continue attending City Council meetings and provide feedback on the effectiveness of the program, which will help inform the City Council's decision to continue or discontinue the program.
Nearby cities like Ventura, Carpinteria, and Oxnard also offer a range of interpretation services for City Council meetings. In addition to the in-person interpretation services, the City will also provide virtual Spanish interpretations on Channel 10 via the Spanish SAP option.
The City Council will consider making the program permanent at the end of the six month period. The City encourages residents to share their input and provide feedback to guide city leaders in making this decision. For more information about City Council meetings, visit the City's website.