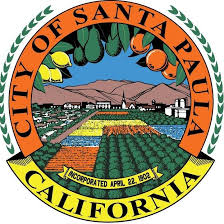 On April 22, the Santa Paula Police Department (SPPD) will celebrate its centennial anniversary. To commemorate this momentous occasion, SPPD and the City have planned a series of events and projects to highlight the department's history and milestones.
"I am incredibly proud to celebrate the centennial of our Police Department and honor the dedicated men and women who have served our community over the last 100 years," said Mayor Andy Sobel. "We look forward to showcasing the Santa Paula Police Department's rich history and continuing our collaboration with residents to build a better future for Santa Paula."
SPPD will be hosting a Centennial Luncheon for all current employees on April 26. On May 13 at 2 p.m., SPPD will be welcoming all current and former SPPD employees for an Alumni Lunch that will include law enforcement dignitaries from across Ventura County.
To celebrate SPPD's history, Animal Control Officer John Morales has painted a mural in SPPD's public lobby, which incorporates both badge styles Santa Paula police officers have donned through SPPD's 100-year history.
SPPD also plans to restore the old neon police sign and issue special patches to sworn employees. To honor the department's long history of service and dedication, SPPD has wrapped a modern police car with 1970s color schemes in recognition of officers who served during that era.
"As we reflect on SPPD's past, we also look forward to continuing our commitment to providing exceptional public safety services to our community," said Santa Paula Interim Police Chief Donald Aguilar.   "I am incredibly grateful for the dedication and sacrifice of our officers, past and present, who have worked tirelessly to keep Santa Paula safe."
In addition to the centennial celebration activities, the City will mark the beginning of National Police Week by commemorating fallen Santa Paula Police Marshall Henry Newton Norman and Officer James E. Barmore on May 14 at 9 a.m. In 1913, Marshall Henry Norman was investigating reports of gunshots when he and Night Watchman James Gamel were ambushed by four armed individuals. Norman was fatally shot in the chest and died two days later. Officer James E. Barmore, a popular, young traffic officer, died in a motorcycle accident in 1953 while responding to a call just outside Santa Paula. The public is invited to attend this event at the Santa Paula Police Memorial.
We encourage community members to join us in honoring the brave men and women who have served our police department over the past century. To learn more about SPPD, please visit the department's webpage or follow them on Facebook, Instagram or Twitter.