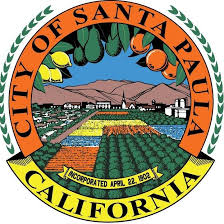 In partnership with the City of Santa Paula, beginning November 9, 2020  Southern California Edison (SCE) will begin replacing existing street light fixtures throughout the city with new light-emitting diode (LED) technology. The new LED street light fixtures will provide much better visibility for drivers and pedestrians by allowing the human eye to see color more clearly and providing improved visual acuity. 
"The importance of this transition to LED technology for all city street lights cannot be understated," said Clete Saunier, Santa Paula Public Works Director. "There are a variety of benefits for both residents and the City, including reduced energy costs which allows that saved money to be diverted to other projects. Especially in these challenging times, every penny counts!" 
The increased visibility provided by the new LED lights can also be considered a public safety improvement since they allow individuals to be more aware of their surroundings. Santa Paula stargazers will also benefit from the new LED light installations because they are  "dark sky compliant," which means that they reduce light trespass and skyglow, which contributes to light pollution. Additionally, these LED lights typically have a longer lifespan and are more energy-efficient, which positively contributes to the City's sustainability efforts including reducing the community's overall carbon footprint. 

Santa Paula has chosen 3,000 kelvin as the color temperature (warm white). This means that, while generally, the City streets will appear less yellow-orange in color at night, the light will not be stark white and there will still be a "warm" glow. Additionally, the LED lights will be replaced on a  standardized wattage conversion so the general lighting approach on Santa Paula's streets will not be significantly altered.  
The replacement work will be undertaken during normal daylight hours and the crews will spend about 10 minutes at each street light. While this work is expected to take about three weeks, crews will work from the curb and so will not require any street closures or "no parking" restrictions for the duration of the work. The SCE contractor designated to remove the old high-pressure sodium vapor lights and install the new LED lights is the construction and engineering company SASCO. 
City infrastructure maintenance and improvement is a continuous and ongoing process. The City of Santa Paula Public Works Department is responsible for Santa Paula's many infrastructure related needs, from street repair and improvements to water and wastewater structures and facilities to engineering and land development. The Public Works team is committed to working closely with partners like SCE to ensure they are able to continue to be responsive to the needs of the Santa Paula community. For questions or more information, place contact the City of Santa  Paula Public Works Department at (805) 933-4212.