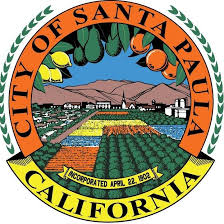 This holiday season, the City of Santa Paula has planned innovative modified and virtual holiday activities to brighten up this winter for residents. The City hopes to bring some holiday cheer despite the challenges of the coronavirus pandemic with both old and new holiday traditions. 
Santa Paulans can spread the holiday magic by giving to those who need it most through participating in the Santa Paula Police Department's (SPPD) annual Santa and Me Holiday Toy  Drive. The SPPD will be accepting toy donations until Saturday, December 12. Residents are encouraged to bring new, unwrapped toys for ages two to 13 and gift cards for children aged 14  to 17. Donations can be dropped off at Las Piedras Park storefront, the Police Station Lobby (214  S. 10th St.) or at City Hall. All gifts will be delivered to homes before Christmas morning. Residents interested in making monetary donations should contact Gabby Ornelas at  GOrnelas@SPCity.org or at (805) 276-9859. Residents may nominate their family or other families for the toy drive by contacting Gabby Ornelas at GOrnelas@SPCity.org or at (805) 276- 9859. The toy drive application is on a first-come, first-serve basis, so please apply as soon as possible. 
Since the City's virtual Halloween contests were so well received, the City has also decided to continue these competitive festivities through the winter. Residents are encouraged to make their homes merry and bright with lights and decorations for the Holiday Home Decorating Contest.  Photo or video entries must be submitted to lauandrade@spcity.org by December 14, and winners of the contest will be notified by December 21. Residents who signed up for the City's  Gingerbread House Contest in November will also be spicing up the season with their creative gingerbread house craftsmanship and decorations. Like the home decorating contest,  gingerbread house entries are due on December 14, but contest winners will be notified by  December 16. 
Santa Claus will be so pleased to see such well-decorated homes and delicious gingerbread houses when he comes to town all the way from the North Pole to deliver special personalized letters to 100 Santa Paula children this year! Santa will also be bringing season's greetings to  Santa Paula neighborhoods during his Santa Tours from Thursday, December 17 through  Saturday, December 19. On his first day (12/17), Santa will ride his sleigh through West Santa  Paula from Peck Road to Palm Avenue starting at 5 PM. On Friday (12/18), Santa will greet residents in Central Santa Paula from Palm Avenue to 10th Street. Residents in East Santa Paula will see Santa (12/19) as he rides his sleigh from 10th Street to 14th Street to Harvest at  Limoneira, then all the way to the North Pole. But don't worry! He will be back Christmas Eve to deliver presents to all the good boys and girls of Santa Paula. 
If Santa Paulans have any "Bah Humbug!" left after participating in the City's holiday events, the residential lights and home decorations that light up the Cherry Hill neighborhood are sure to put them in the holiday spirit.
And in case you missed it, Santa's Little Helper, PARKY, will be keeping City staff company in City Departments throughout the month of December. Check out the City's Parks & Recreation Facebook and Instagram to see updates from the City's very own elf! Since he first arrived at City Hall on December 1, PARKY has already swung by the City's Public Works Director's Office, took selfies at the Community Economic Development Department, and climbed his way to the City Manager's office to say hello!
"The holiday season often signals a time to spend with friends and family, but our community and much of the world has had to adapt due to COVID-19," said City Manager Dan Singer. "The pandemic has really impacted the way our community connects with each other, but we hope these events will help maintain some normalcy and bring some joy to our community." 
For more information about the City's holiday events, please contact the City's Parks & Recreation Department by emailing ParksAndRec@SPCity.org or by calling (805) 933-4226.