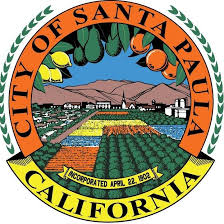 At a special session on Wednesday, City of Santa Paula staff and the City  Council discussed options for creating and generating new revenue for the City. Following the  Council's discussion, they provided guidance to City staff to research and explore various revenue opportunities including fee adjustments for City services, business license fees, recreation related fees, cannabis regulations and towing franchise fees. The City Council opted not to pursue increasing the City's existing Transient Occupancy Tax nor implementing a Utility User Tax. 
"In addition to critical services such as street repair, public safety and community development,  the City of Santa Paula also provides many cherished traditions and unique services to the community such as youth classes, sports, summer camps, senior classes and other annual special events," said Santa Paula Finance Director Christy Ramirez. "I am pleased that the City  Council has given staff direction to pursue additional revenue generating opportunities in order to  ensure the City is able to continue providing these services and events for years to come." 
In fiscal year 2017/2018, the City of Santa Paula saw its sales tax revenue base more than double as a result of the City's voters passing Measure T. However, the City's most stable revenue source, property taxes, has dropped significantly as a result of the City annexing fire services to the County Fire Department to provide those services to the community. While this decision eliminated the City's expenses associated with operating its own fire protection services, it also called for 79% of property taxes to be paid to the Ventura County Fire Protection District for its services. As a result, the City has had to rely more heavily on sales tax revenue and revenues from service fees to provide services for the Santa Paula community. 
The City's municipal code allows the City to increase City fees for various services based on the  Consumer Price Index (CPI) in order to accommodate inflation; however, the City's budget has not applied CPI fee standards in nearly four years. In addition to potentially increasing certain service fees, the City will continue to work towards cost saving measures by creating process efficiencies and refreshing its approach to debt service reduction. 
With increased revenue, the City will be able to sustain current services, prepare for future infrastructure projects such as street improvements, replace aging infrastructure and meet the growing needs of the community. The City's current financial status as a result of significantly decreased property tax collections does not allow the City to plan for long-term fiscal sustainability. In fact, the City is the second lowest in the County in terms of proceeds per capita for General Fund revenues.
Despite these revenue setbacks, the City has experienced financial achievements throughout this past year. The City anticipated significant financial challenges when devising its FY 2020-2021  budget in June of 2020, forcing the City to cut back on certain programs in order to ensure the  City's financial stability. However, the City's finances fared better than expected, allowing the City to reinvigorate financial allocations for City programs and departments that were reduced in preparation for financial setbacks as a result of the pandemic. These financial achievements,  however, are not enough to ensure the City's financial sustainability in light of reduced revenue from property taxes.  
"With Council's direction to seek additional revenue routes, the City will ensure its programs and services for future generations to come," said Santa Paula City Manager Dan Singer.