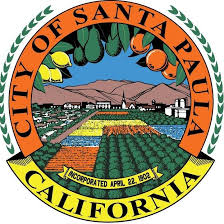 Spring has officially sprung in Santa Paula, and the City is excited to be rolling out many cherished recreational programs for the community. As summer nears and the long virtual school year comes to a close, the City is offering several programs and activities to keep kids active and entertained while building valuable skills.
The City's Parks and Recreation Department is hosting its T-Ball league for children ages 4 through 6. Registration will occur on Wednesday, May 5 from 4 p.m. to 6:30 p.m. at the Community Center, and will be $85 per player. The fees cover and include a jersey, cap and team photo. A copy of the prospective player's birth certificate is required to register. For more information, please contact Abel Duque at (805) 933-4226, ext. 353.
Residents may also register for the City's summer camp beginning on Wednesday, May 26 via Rec Desk, the City's new online software that will be launched next month to help better serve the community. Additional information on the City's summer camp classes will be released in the coming weeks.
The City will also be offering a number of spring recreational classes that will begin the first week of May, including:
Folklorico (ages 7-17): Local youth will learn the fundamentals of the Mexican folk dancing tradition, how to keep rhythm and choreography. Classes are $15 per month and meet once a week for an hour on Fridays. Classes are divided into beginner and advanced classes.
Gymnastics (ages 3-13): Children and young teens will have fun and improve their balance, coordination, agility and flexibility. Classes cost $35 per month and meet once a week on Thursdays. Classes are split up into three groups: tiny tots, beginner and intermediate.
Tae Kwon Do (ages 3.5-17): Young children, preteens, teenagers and everyone in between will discover the traditional Korean martial art of Tae Kwon Do and learn basic defense techniques. Classes are $50 per month and meet twice a week on Tuesday and Thursday. The classes will be separated into beginner and advanced classes.
All recreational classes will be held at the Community Center, located at 530 West Main Street. Each class will have physical distancing measures in place and face covering requirements for all attendees. In accordance with COVID-19 health and safety guidelines, surfaces will also be wiped down regularly and frequent handwashing will be encouraged.
Residents can register for these recreational classes at the Community Center from Monday through Thursday from 8:30 a.m. to 1 p.m. and 2 p.m. to 5 p.m. For questions, please email ParksAndRec@SPCity.org or call (805) 933-4226, ext. 358.
Santa Paulans are encouraged to stay tuned for more information about additional spring and summer class offerings by following the City's Parks and Recreation Facebook Page and Instagram Page.