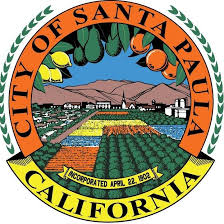 In the spirit of National Volunteer Month and in light of Santa Paulans' extensive desire to be the change they want to see in the community, the City of Santa Paula is excited to announce that it will building off of last year's success and again be hosting Santa Paula Beautiful, a volunteer event scheduled for Saturday, May 1 from 8:30 AM to 12:30 PM. Volunteers will have the opportunity to contribute to various beautification projects throughout the city including cleaning up popular bike trails and neighborhood parks, touching up and painting various city landmarks and facilities, and helping maintain downtown Santa Paula.
"Santa Paula residents are deeply committed to our community, and this humble and widespread desire to give back and contribute inspired the City to bring this event back and to create additional volunteer opportunities," said Santa Paula Mayor Carlos Juarez. "This event is also an excellent opportunity for our community to come together after this past year has forced so many of us to isolate ourselves from each other."
While the Santa Paula Beautiful event will occur in person, the City is also very mindful of the fact that the COVID-19 pandemic is still an ever-present reality. Therefore, the event will be held with established COVID-19 health and safety measures in place, including mandatory face coverings for all volunteers and organizing teams to work together in a manner that can still accommodate physical distancing guidelines.
Anyone interested in becoming a volunteer and participating in the May 1st Santa Paula Beautiful event can sign up on the City's website by completing an online volunteer interest form. Santa Paula residents as young as 6 years old may volunteer with a parent or guardian over the age of 18. Children between the ages of 12 and 17 may volunteer if they are supervised by a parent or guardian, local community organization or City staff. While volunteers will be accepted until the day of the event, residents are encouraged to sign up by Monday, April 19 in order to ensure that there is enough food and t-shirts for all volunteers.

Last year, the City's Santa Paula Beautiful event took place in October and had 300+ volunteers participate in helping to beautify the City. By the end of the day they had helped clean up over 10 tons of trash and debris, as well as painted and revitalized several buildings throughout Santa Paula.
"To date, we have 200 Santa Paula residents, business owners and others signed up to participate on May 1st, and we look forward to more community members signing up and to working alongside them during the event," said Santa Paula City Manager Dan Singer. "If community members are unable to attend, however, there are more opportunities to volunteer and make a difference through our Santa Paula Proud program."
Whether it be serving hot meals to a senior, mentoring or coaching a young person, beautifying a park or the historic downtown, or assisting the police department through its Police Explorers high school program or participating in citizen's patrol activities, the Santa Paula Proud program offers something for everyone. Each volunteer opportunity has varying levels of time commitment requirements. To read more about the City's Santa Paula Proud Volunteer Program, please visit the City's website.