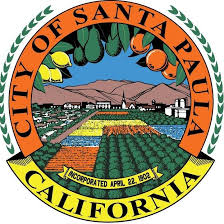 The City of Santa Paula, in partnership with the Downtown Property Business Improvement District (PBID), launched a new banner initiative to celebrate the Santa Paula community and encourage residents and visitors alike to take advantage of the city's unique offerings. Nearly 150 new banners have been installed in Downtown Santa Paula and immediately surrounding streets, which showcase iconic city features including architecture, cuisine, sports and cultural experiences.
"Through these banners, the city hopes to signal to our residents and visitors passing through, that Santa Paula and its businesses, cultural institutions and downtown area have a lot to offer," said Santa Paula City Manager Dan Singer. "With our weekly Farmer's Market, frequent Cruise Nights and annual arts and culture festivals, these banners are just one more testament to the city's commitment to maintaining a lively and beautiful downtown."
Residents and tourists can get a taste of what makes Santa Paula special by keeping an eye out for some of the following banners (please note this is not a full list):
CELEBRATE – The 'celebrate' series showcases Santa Paulans' heritage by featuring traditional baile folklórico dancers and Tonantzin indigenous dancers.
LEARN – To inspire locals to learn more about Santa Paula's rich history, the 'learn' series showcases the Agricultural Museum and Blanchard Community Library.
DISCOVER – The 'discover' series showcases Santa Paula's art scene by featuring the Jeanette Cole Art Center/Santa Paula Art Museum and the well-known mural on Davis and Main Street titled "Santa Paula Citrus Capital of the World."
EXPLORE – The 'explore' series showcases the Santa Paula Airport and Aviation Museum of Santa Paula, which offers passengers and tourists an experience that harkens back to the golden age of aviation.
RELAX – The 'relax' series reveals some of the community's hidden natural gems, like the waterfall along the Santa Paula Canyon and Punch Bowls Trail.
STAY – Santa Paula has a variety of historic and quality lodging, which is why the 'stay' series showcases the Glen Tavern Inn and the Santa Paula Inn.
The banners were placed in areas of the city that have some of the highest vehicle, bicyclist and pedestrian traffic. More specifically, these banners can be viewed along Main Street between 7th Street and 12th Street, as well as on a portion of 10th Street near the intersection at Main Street.

In addition to encouraging the public to celebrate, explore, learn, discover, relax and stay in Santa Paula, these banners also add to the visual appeal of the area, which will help enhance the community's local economy. This boost to the city's economy has the potential to not only assist local businesses but also create the potential for new jobs, enhanced community experience and additional sales tax revenues that can then go back into the community through various city programs.
The City of Santa Paula, PBID and Santa Paula Chamber of Commerce previously partnered to implement seasonal holiday banners last December along Main Street between 8th Street and Ojai Street. The warm reception and success of these banners helped inspire this new initiative. In addition to the banners that are currently on display, seasonal banners will also regularly be rolled out throughout the year to help keep the downtown area lively, encourage residents and visitors to shop, eat and take advantage of local experiences, and inspire repeat visits to the area.
The City of Santa Paula will also soon launch its revamped military banner program, called "Santa Paula Salutes," to honor local military members who have served in the United States Armed forces. All active, former, retired and fallen military personnel from Santa Paula will be eligible for recognition through this program. The new banner design has been refreshed and will include photos of the service member being recognized, in addition to their name and branch of service.
To enhance the city's show of support for local service members, these banners will be hung around Santa Paula's Veterans Memorial Park along 10th Street and Mill Street. Residents are encouraged to stay tuned for more information over the next few months for information on the official rollout of Santa Paula Salutes banner program and how their loved ones can be recognized through the program. Those who were part of the former military banner program should please contact Nicki Mayes at nmayes@spcity.org to find out more information on the new program.