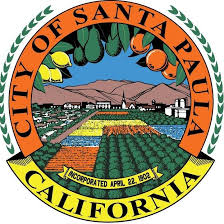 The City of Santa Paula continues to invest staff time and research in its grant application efforts to supplement the City's budget. As a result of these efforts, the City received a $1.5 million Transportation Development Act (TDA) grant from the Ventura County Transportation Commission (VCTC) to expand the City's cycling infrastructure. Additionally, Santa Paula was awarded a $192,050 grant through the California Public Utilities Commission's Local Agency Technical Assistance (LATA) Program to develop a citywide broadband master plan.
"These grants represent a significant step forward in our efforts to make Santa Paula a more vibrant and sustainable City," said Mayor Andy Sobel. "The new bike infrastructure and broadband master plan will help us advance modernization efforts and offer benefits for residents and visitors to enjoy. I am excited to see these projects come to life and appreciate everyone's patience and cooperation during their implementation."
The City will use the TDA grant to build up to 2.48 miles of new bike trails which will connect existing bike trails to improve pedestrian connectivity. The current proposal identifies three areas throughout the City for significant improvements to the pedestrian and cycling network.
The City has planned for a bike path connecting the new 37-acre regional sports park and Harvest housing development along a bridge over the Santa Paula Creek. This path will connect the new development to the City's existing bike network at 12th Street. Additionally, a second bike path will connect the bike path at N. Peck Road with the City's West End Business Park where the Ventura East College Campus is located, allowing residents to travel seamlessly across town and eliminating dangerous, time consuming detours.
Finally, the City will explore an additional bike path parallel to the Santa Paula Creek on the Las Piedras side intersecting with the bridge which would go north and end near the Santa Paula School District Farm providing adjacent neighborhoods access to the City's wider cycling network and key locations, such as the Santa Paula Youth Center and downtown Santa Paula. These improvements intend to alleviate traffic, increase safety and promote resident wellbeing.
The TDA grant will support the City's goal of developing safe, sustainable, innovative and cost-efficient infrastructure, as outlined in the City Council's 2021-2023 Strategic Goals. In support of this objective, the City also appropriated $50,000 from its American Rescue Plan Act (ARPA) funds to create a Bike Trail Master Plan, which will establish the framework for Santa Paula to continue growing its cycling network. Not only does replacing unnecessary vehicle travel with walking and biking promote healthier lifestyles, but it also helps to reduce air pollution.
As the City continues to reach milestones in its road and pavement improvement efforts, the LATA grant will help the City enhance its digital infrastructure. With funds awarded through the LATA grant, Santa Paula will be able to create its first comprehensive broadband master plan. In exploring this plan, the City will also collaborate with Ventura County on their efforts to build a middle mile fiber network, the Ventura County Fiber Network, which aims to connect all Ventura County cities with the internet.
A citywide broadband master plan will enable Santa Paula to investigate opportunities to enhance broadband access for municipal use, promote economic development and examine strategies to connect underserved parts of the community. Developing this formal plan will allow the City to evaluate its current broadband environment, leverage existing assets, engage in partnerships, explore additional grant opportunities and find innovative ways to improve service for residents.
The City of Santa Paula is committed to improving the quality of life for its residents, and these grants will play a key role in creating a better place to live, work and play. For more information about these grants or other initiatives in the City of Santa Paula, please contact Jonathan Royas, Management Analyst, at (805) 525-4478 or jroyas@spcity.org.