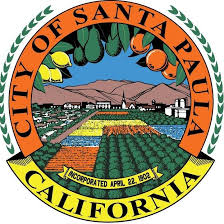 The City of Santa Paula, in partnership with Limoneira, Calavo Growers, Lewis Group of Companies and the Santa Paula Chamber of Commerce, hosted a welcome event for new residents at the Harvest housing development on May 12. The event is aimed to introduce new residents to the community and help them get acquainted with public services and local businesses that make Santa Paula unique.
"The City is thrilled to welcome so many new residents to our community. As Santa Paula continues to grow, we are looking into creative ways to assist residents in obtaining information and building relationships," said Mayor Andy Sobel. "We are grateful for the partnership of Limoneira, Calavo Growers, Lewis Group of Companies and the Santa Paula Chamber of Commerce in bringing our community together."
The Harvest development has played a critical role in Santa Paula's recent growth, providing much needed housing for residents. The development broke ground in 2017 on land donated by the Limoneira Company. The development offers a range of housing options and a 37-acre Santa Paula Creek Sports Park, of which Phase I will be completed in 2023.
The City, along with volunteers such as Santa Paula City Corps, Athens Services, the Santa Paula Chamber of Commerce and downtown business owners, welcomed 476 new households in the Harvest development. Each household received a Santa Paula Welcome Guide, with helpful information about the City of Santa Paula.
The event hosted at the doorsteps of hundreds of Santa Paula residents served as an opportunity to highlight the community partnerships that make Santa Paula a great place to live, work and play. These partnerships demonstrate the collaborative efforts of local leaders and organizations to support the growth and development of Santa Paula.
"Santa Paula has a unique history, and it is important to our community to maintain Santa Paula's historic neighborhood charm as we welcome new residents," said City Manager Dan Singer. "We hope that we can continue to welcome our new neighbors with events like this as we move down this path of sustainable growth."
The City looks forward to the anticipated growth in Santa Paula and expanding this effort to every new resident to the community. To view a short video on this effort, visit  https://youtu.be/NFWAC30izEc. Stay up to date with the City on Facebook, Instagram or Twitter and get more information on resources available to residents at the City's website.
For additional information regarding the Welcome Kits, please contact Jonathan Royas, Management Analyst, at (805) 525-4478 or jroyas@spcity.org.