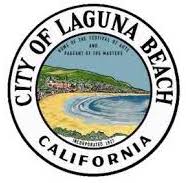 On December 14, 2021, the Laguna Beach City Council voted unanimously to appoint Mayor Pro Tem Sue Kempf to serve as Mayor of the City of Laguna Beach.  Former Mayor Bob Whalen, who has served on the City Council since 2012 and the last three consecutive terms as mayor, was appointed to serve as Mayor Pro Tem.
"I am humbled and honored to serve our community as Laguna Beach Mayor," said Mayor Kempf.  "Over the last few years, our City Council has worked together and made great progress on quality-of-life enhancements, additional fire safety and mitigation measures, and process streamlining improvements for our community," Kempf said.  "Collaborative work within the City Council and with City Staff is key to continuing that momentum and moving forward together.  I look forward to partnering with residents, our business community and my colleagues on the City Council to enhance services and further define our priorities for the future."
Laguna Beach Mayor Sue Kempf was elected to the Laguna Beach City Council in 2018 and has been active in local affairs since moving to Laguna Beach in 1999. Her City Council initiatives include the 2021 "Neighborhood & Environmental Protection Plan," to mitigate visitor impacts to neighborhoods, enhance City services for residents, and add environmental protection programs; implementation of the 2019 Wildfire Mitigation and Fire Safety Plan to reduce the threat of wildfire in Laguna Beach; and the creation of the Promenade on Forest, outdoor dining, and economic recovery programs for local businesses.

"Sue is going to do an outstanding job as Mayor," said Laguna Beach Mayor Pro Tem Bob Whalen. "She is fully engaged with the community and focused on tackling a number of issues on behalf of residents.  I have full confidence in her and we are all very fortunate to have her in this role as mayor."
Kempf's volunteer activities have included serving on the View Preservation Task Force as well as co-chairing the Disaster/Emergency Preparedness Committee after graduating from the first Community Emergency Response Team (CERT) training class.  Kempf has also served three terms on the City's Planning Commission, to which she brought a wealth of knowledge about software development and systems infrastructure, gained as the Executive Director for Verizon's four primary data center locations in the western United States. Kempf also spent three years as President of Mirion Technologies Dosimetry Services and served as Managing Director of Vodafone. She was also a boys basketball coach at the Boys and Girls Club in Laguna Beach for several years. Kempf retired from her software career in 2017 and lives in Laguna Beach with her spouse, Cheryl.