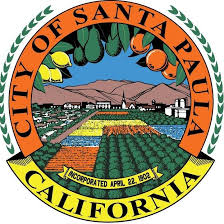 The Santa Paula Parks & Recreation Department and the Santa Paula Unified School District are proud to announce a transformative partnership focused on increasing access to youth sports in the community. This collaboration aims to overcome barriers and provide a comprehensive range of sports opportunities for students in 3rd to 8th grade.
Recognizing the importance of youth sports in fostering physical activity, teamwork and personal growth, the Parks & Recreation Department and the school district have come together to develop a program that addresses existing challenges. The goal is to ensure that all interested youth have the chance to participate, regardless of financial constraints or logistical hurdles.
Under the agreement, the Parks & Recreation Department, in conjunction with the Santa Paula Unified School District, will introduce an expanded offering of sports activities for the 23-24 school year. The initial sports lineup includes flag football, cheer, basketball and track, with plans to progressively introduce additional sports such as volleyball, micro soccer and cross country in the following years.
To enhance accessibility, the program will include several key components:

Inclusive Participation: The program is open to all students in 3rd – 8th grade within the Santa Paula Unified School District. Participation will be free for students who join their school team or one of the City's P.A.L. teams.
Community Engagement: The partnership extends beyond the school district to include collaboration with local schools, organizations, and community centers. Institutions such as Briggs School, Olivelands Elementary, Saint Sebastian, Mupu School and the Boys & Girls Club have been invited to participate.
Variety of Activities: In addition to league play, the program will introduce "Mini Camps." These rotating six-week sessions will provide students with exposure to a range of sports and recreational activities, expanding their interests and skills.
Championship Events: Each sports season will culminate in a championship event, fostering a sense of achievement and healthy competition among participants.
The collaborative effort also includes the creation of a limited-term recreation program coordinator position, funded through the agreement. This role will facilitate the program's implementation and ensure its success.
"We are thrilled about another partnership with the school district, which will bring an array of sports opportunities to our youth and break down barriers that may have hindered participation in the past," said Greg Barnes, City of Santa Paula Parks & Recreation director. "Through this initiative, we aim to inspire a lifelong love for physical activity and teamwork among the youth in our community."
This collaboration represents a significant step towards achieving the shared goal of ensuring that youth in the Santa Paula community have equal access to enriching sports experiences.
For more information about the program, including registration details and specific sports offerings, interested parties are encouraged to contact Recreation Coordinator Andy Rico at arico@spcity.org or Recreation Supervisor Abel Duque at aduque@spcity.org. Alternatively, they can reach out to the Parks & Recreation Department directly by phone at 805-933-4226 ext 350 or visit the official website at www.spcity.org.